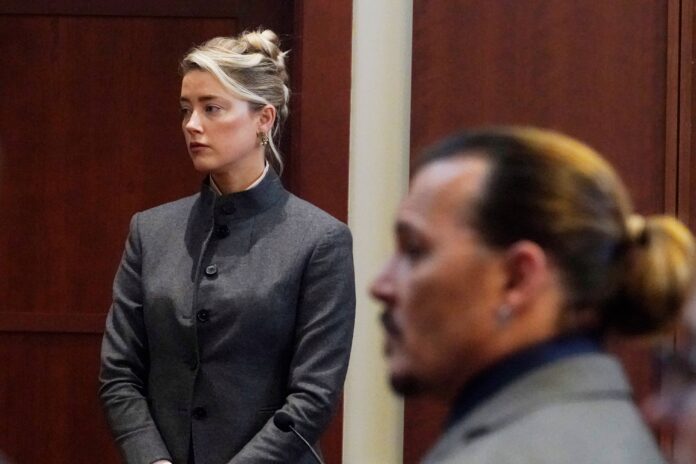 NOTE: This article contains details and descriptions that are graphic and disturbing. Please read at your own discretion.
Court proceedings in the defamation trial that has pitted Amber Heard against her ex-husband Johnny Depp resumed Monday after a week-long break.
The former spouses were last seen in the courtroom on May 5, when Heard detailed for the court multiple instances of alleged assault at the hands of Depp.
Heard's testimony continued Monday as she returned to the stand, recalling what she believed to be the first act of alleged physical violence Depp committed against her.
Actor Johnny Depp arrives into the courtroom at the Fairfax County Circuit Courthouse in Fairfax, Virginia, on May 16, 2022.
Getty
She said the violence first took place in early 2012, changing her previous testimony, when she claimed the violence occurred in 2013.
Heard alleged Depp hit her for the first time when she asked about his "Wino Forever" tattoo – ink adapted from a former "Winona Forever" tattoo, a reference to Depp's ex-girlfriend, Winona Ryder.
Heard's legal team submitted several photos of Heard at various red carpet events as evidence. In the images, Heard is seen with "scars" on her arms. She claimed the scars were from an alleged attack in Australia where she said Depp held her against a glass-covered countertop and sexually assaulted her with a liquor bottle.
Actor Amber Heard testifies in the courtroom at the Fairfax County Circuit Courthouse in Fairfax, Virginia, on May 16, 2022.
Getty
Depp claims Heard severed the tip of his finger on this trip. He testified earlier in the trial this occurred when she threw a glass bottle at his hand.
4:28Amber Heard tells court she 'wouldn't survive it' if she hadn't divorced Johnny Depp
Amber Heard tells court she 'wouldn't survive it' if she hadn't divorced Johnny Depp
Heard also that testified Depp has a history of self-harm, and would regularly press knives into his skin, causing him to bleed superficially. She claimed he would put out lit cigarettes on his own skin, occasionally flicking them at Heard as well.
Heard also testified about a widely talked-about incident when Depp alleged she defecated on his side of their bed while they were married. She vehemently the act, claiming it is "disgusting" and that she "was not in a pranking mood" because "my life was falling apart."
Judge Penney Azcarate talks to attorneys during bench conference in the courtroom after a break at the Fairfax County Circuit Courthouse in Fairfax, Virginia, on May 16, 2022.
Getty
Heard later testified she met with Depp in 2016 following a month of separation. She claimed at the time Depp's mother had just died.
According to Heard, Depp was still fixated on the alleged defecation, insisting Heard or one of her friends had done it as a prank.
After what Heard claimed was a heated phone call between the ex-spouses and a friend of Heard, she told the court Depp threw a phone at her face.
Trending Stories
David Milgaard, wrongfully imprisoned for 23 years, dies at 69
Researchers say they've found the reason why infants die from SIDS
She testified the fight escalated before another her friends entered the room and attempted to deescalate the situation. The friend put her hands on Depp's chest and insisted he calm down.
Heard continued to testify that Depp remained violent, destroying property in the apartment.
She testified that about an hour after the fight, police were called to the apartment.
Heard said her friend took several photos of her face — some of which were already shown in court — to potentially present to the police. In the photos, Heard's cheekbone appears visibly red from where she claims the thrown phone hit her.
Heard testified that she decided not to report the incident to the police, saying that she wanted to "protect" Depp. With a sigh, Heard said she "didn't want the world to know."
When asked why she filed for divorce, Heard told her lawyer, "I knew if I didn't I'd likely not literally survive. I was so scared that it was going to end really badly for me."
"I really didn't want to leave him, I loved him so much," she said. "I couldn't stay. I believe he would've taken it too far and I wouldn't be here."
This combination of pictures created on May 16, 2022 shows US actress Amber Heard as she testifies in the courtroom at the Fairfax County Circuit Courthouse in Fairfax, Virginia.
Steve Helber / Getty Images
"The violence was normal and not the exception," Heard testified.
She said she received a temporary restraining order (TRO) when she filed for divorce because "I just wanted to change my locks," she said. "The person I was scared of was the person I was also in love with."
As the initial questioning from Heard's lawyers wound down, she told the court that Depp allegedly warned "no one would touch her" in the entertainment industry following their divorce.
She also accused Depp of leaking information to TMZ.
After some lengthy audio between Depp and Heard played in the courtroom, she testified that everything she's said in court so far "has been the truth."
She pointed to numerous photos, text messages and other correspondence admitted in court, saying that it would be "crazy" to make things up for years.
"I didn't want this. I don't want to be here," she told the jury. Heard testified she never wanted the information about their relationship to be made public.  "I was begging him not to make me prove it."
"I didn't want to hurt him. I loved him so much," she said, adding that is why she did not file a criminal charge against Depp.
Actor Johnny Depp walks into the courtroom after a break at the Fairfax County Circuit Courthouse in Fairfax, Virginia, on May 16, 2022.
Getty
Heard appeared to fight back tears on the stand, telling jurors she never wanted to be called a liar.
Heard testified that after their divorce, Depp's "smear campaign" directed massive press attention towards her and her family, casting doubt on her claims and overall character.
"All I have is my name. All I have is my integrity, and that is what he tried to take from me," she said. She added that, in the divorce, she was "not interested in Johnny's money."
In her earlier testimony last week, Heard told the court Depp was a jealous partner, and claimed that many of the fights that began between the couple started over Depp's jealousies.
Heard confirmed she has not fulfilled her promises to donate the US$7-million to charity. She told the court this is because of the ongoing trial and Depp's $50-million complaint against her.
2:19Amber Heard says Depp 'hated' James Franco, accused her of 'secretly' having affair
Earlier in the proceedings, which began on April 12 and will wrap up on May 27, Depp denied many of the allegations, insisting that he is a "Southern gentleman" and that he had not been addicted to alcohol or illicit drugs.
This week, the jury will also hear from Heard's sister, Whitney Henriquez, as well as actor Ellen Barkin, who was in a brief relationship with Depp during the 1990s.
Depp is also expected to be called back to the witness stand as part of Heard's case.
In the legal battle between the two stars, both Heard, 36, and Depp, 58, claim to be victims of violence. The initial court case began when Depp filed a US$50-million defamation lawsuit over a Washington Post op-ed penned by Heard in late 2018 about domestic abuse.
Heard did not mention Depp by name in the article, but the actor alleges his reputation and career were still "devastated" as a result.
Heard is countersuing Depp for $100 million.
1:26Johnny Depp claims texts about burning Amber Heard's body was a reference to 'Monty Python'
© 2022 Global News, a division of Corus Entertainment Inc.