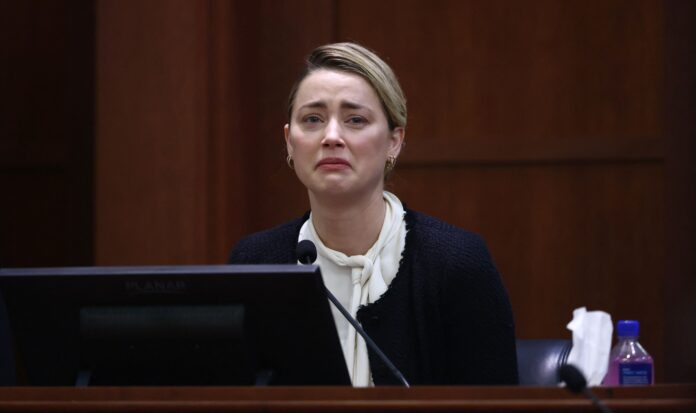 NOTE: This article contains details and descriptions that are graphic and disturbing. Please read at your own discretion.
Amber Heard returned to the stand Thursday, testifying in the ongoing defamation trial brought by her ex-husband, Johnny Depp.
Heard's testimony began Thursday with three photos she took of Depp in 2013. At this point, she had been in a relationship with the actor for more than a year.
In the first photo, Depp was asleep in a chair on his private island. Heard testified Depp had a "brief stint of sobriety" before he began using drugs again, when the photo was taken.
A second photo was of a sleeping Depp after what Heard called a "several-day bender." She said the actor was not eating or sleeping much at the time.
The third image depicted Depp laying on his face on the floor of his hotel room.
US actress Amber Heard embraces a member of her legal team as she arrives at the Fairfax County Circuit Courthouse in Fairfax, Virginia, on May 5, 2022.
Getty
Heard testified she asked Depp for a prenuptial agreement before they were married. She claimed he denied her request, telling her, "The only way out of this is death."
Heard then chronicled the pair's attendance at the Met Gala in 2014. Heard said Depp accused her of flirting with a woman at the event. She said once they returned home, Depp grabbed her by the neck and threw a bottle at her, which missed and broke a chandelier.
She claimed Depp held her down and "whacked" her in the face. She said she suspected she had a broken nose, as it was swollen, discoloured and red. (It is unclear if Heard's nose was ever broken.)
US actor Johnny Depp arrives at the Fairfax County Circuit Courthouse in Fairfax, Virginia, on May 5, 2022.
Getty
When asked about filming the Adderall Diaries with actor James Franco, Heard said Depp "hated" Franco and accused her of previously "secretly having a thing" with the actor.
Heard said Depp had problems with a sex scene she and Franco performed in the film and that Depp called her a "slut" and asked several vulgar questions about the scene and her body.
When she tried to leave the conversation, Heard said Depp kicked her in the back but claimed not one helped her, despite there being several witnesses to the attack.
3:17Heard recounts incident where Johnny Depp allegedly kicked her on plane: 'I just stared at him'
Heard recounts incident where Johnny Depp allegedly kicked her on plane: 'I just stared at him'
Heard also testified about Depp's detox from the opioid, Roxicodone. She claimed the actor's moods were sporadic and intense, switching suddenly from elation to anger and violence. "It was hell," she said.
Heard testified the couple would get into frequent arguments, and say "awful things" to each other.
"I'm so ashamed of the names we would call each other," she said, adding that they both "got into that pattern."
As Heard's testimony continued, she answered questions about the now-infamous Australia trip where Depp lost the tip of his middle finger. Depp previously testified the digit severed when Heard threw a glass vodka bottle at his hand.
Trending Stories
In ruined Ukrainian village, stranded elderly residents are all who remain
Young Yankees diehard in tears after Blue Jays fan hands over home run ball
She said when she met up with Depp in Australia "he had lost a ton of weight," and she knew then that "something was up."
At the reunion (both had been working on seperate projects) Heard said Depp asked her to do MDMA with him, but said she adamantly refused.
When she attempted to leave, she said Depp shoved her and she "slid" across the floor. She said Depp then held her by her throat against the fridge before she slapped him across the face in retaliation and "stormed off."
Heard claimed the next day Depp remained paranoid she was having an affair with co-star Eddie Redmayne and actor Billy Bob Thornton.
That night, Heard said they had a "belligerent" fight where Depp shouted and threw things at her. "It wasn't making sense," she said.
She recalled Depp pushing her up against a fridge and "hitting my head, hard." Heard said Depp was drinking alcohol in front of her "to make a point."
Heard said Depp threw her on to a games table and started hitting her in the face. After some struggle, the pair physically separated and she smashed a bottle on the floor.
She said Depp threw another bottle at her, which missed. "At some point he had a broken bottle up against my face, neck area by my jawline and he told me he'd carve up my face," she said.
She continued, testifying through tears that Depp ripped off her nightgown, leaving her naked.
Heard said Depp got on top of her on the ground. "I was looking in to his eyes, and it wasn't him," she said.
Heard, speaking through sobs and covering her face, told the jury Depp continued to punch her.
"I felt pain and there was a pressure on my pubic bone," she said, explaining she then realized she was being forcefully penetrated with a glass bottle. "I just remember being really still and not wanting to move."
"I didn't know if the bottle he had inside me was broken," she told the court through her sobs.
When the alleged assault was over, she fled to the washroom, where she began to retch and lost control of her bladder.
When she emerged, "several hours" later she said Depp had covered the walls and surfaces with various messages in paint, including a "giant penis" on a painting on the wall.
Heard claimed Depp showed her his severed finger. She said she then phoned an ambulance.
Several photos of the damaged property, shattered glass and blood-written messages from Depp were shown to the jury.
Heard testified for the first time Wednesday, telling the court of multiple times she — and other people — allegedly suffered physical abuse at the hands of Depp.
She told the court of a time when Depp allegedly became convinced she was hiding his cocaine, and he violently groped at her and ripped off her underwear, before performing a "cavity search."
Actor Amber Heard testifies about the first time her ex-husband, actor Johnny Depp hit her, at Fairfax County Circuit Court during a defamation case against her by Depp in Fairfax, Va., on May 4, 2022.
Elizabeth Frantz / AFP / Getty Images
She also recounted two separate times when she said Depp threatened to break the wrists of women he thought were hitting on her.
In the legal battle between the two stars, both Heard, 36, and Depp, 58, claim to be victims of violence. The initial court case began when Depp filed a US$50-million defamation lawsuit over a Washington Post op-ed penned by Heard in late 2018 about domestic abuse.
Heard did not mention Depp by name in the article, but the actor alleges his reputation and career were still "devastated" as a result.
As she took the stand Wednesday, Heard told the jury this trial process has been "incredibly painful" and "the hardest thing I've ever had to do."
On Tuesday, after Depp's legal team finished questioning their witnesses, Heard's lawyers asked the judge to dismiss the lawsuit, arguing that Depp had failed to make his case as a matter of law and that no reasonable jury could find in his favour.
Actor Amber Heard testifies at Fairfax County Circuit Court during a defamation case against her by ex-husband, actor Johnny Depp, in Fairfax, Virginia, on May 4, 2022.
Getty
Judge Penney Azcarate said the standard for dismissing a case at this point in the trial is exceedingly high, and that the case should be allowed to move forward if Depp has provided even a "scintilla" of evidence backing up his claims; she then dismissed the motion.
Heard is countersuing Depp for $100 million.
— with files from The Associated Press 
2:45Court shown Amber Heard's secret recording of Johnny Depp violently smashing cupboards and glasses
© 2022 Global News, a division of Corus Entertainment Inc.