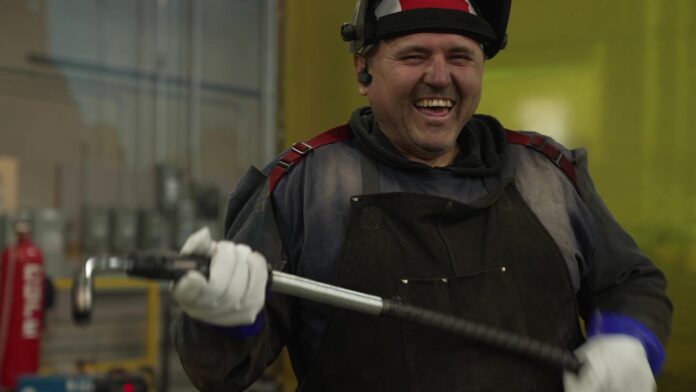 10:33
Canadian Shield: Making armoured vehicles for Ukraine
If there has been a defining characteristic of Ukrainians during the war, it has been their steely yet smiling resolve in defiance of the Russian forces. Even as they endure incomprehensible brutality, their spirit — the belief that Ukraine will prevail — is unbroken.
That enthusiasm is evident in everything from official Ukrainian government communications channelling Ferris Bueller, to recent viral videos of the jubilation after the liberation of Kherson.
And it is apparent the instant you meet Volodymyr, an imposing yet gentle giant with an infectious smile for everyone he meets.
Volodymyr welding on Roshel's production line.
Brent Rose / Global News
Volodymyr is one of at least 30 Ukrainian newcomers to Canada helping a little-known local manufacturer make armoured personnel carriers for the war effort in their homeland.
"I've never served in the army, nor was I in the reserve," the barrel-chested welder told Global News' current affairs program The New Reality. "I am assembling these vehicles to help our lads fight in Ukraine. So, I am helping as much as I can."
The vehicle is called the Senator. The company is called Roshel — it's both the namesake and brainchild of Roman Shimonov, an immigrant himself, from Israel.
<a href="" title="View image in full screen" class="c-figure__expand c-figure__overlay" data-trackaction="image