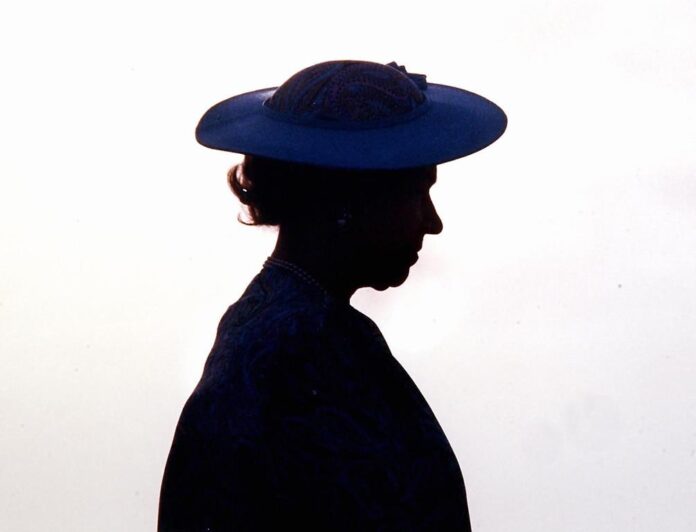 It may feel as though all of the world is mourning the death of Queen Elizabeth II, but for many people, her passing has renewed conversations around her complicated legacy and the British Royal Family's role in colonialism and imperialism worldwide.
Members of the Royal Family were summoned to Balmoral Castle in Scotland last Thursday as news spread of the queen's ailing health. Hours later, the world was informed of her death.
Many people immediately lamented the loss of Britain's longest-reigning monarch, but for others, who continue to deal with the fallout and pain of colonialism, her death has revived feelings of anger and disdain.
Patricia Allen, Catherine, Duchess of Cambridge, Prince William, Duke of Cambridge and Governor General of Jamaica Sir Patrick Allen pose during a dinner reception at King's House on March 23, 2022 in Kingston, Jamaica.
Samir Hussein / Getty Images
In recent years, some people from the Caribbean who had lived legally in Britain for decades were denied housing, jobs or medical treatment, and in some cases deported, because they didn't have paperwork to prove their status.
The British government has apologized and agreed to pay compensation, but the scandal has caused deep anger, both in the U.K. and in the Caribbean. Some Caribbean nations have considered removing the queen as head of state, less than a year after Barbados cut ties and moved from a constitutional monarchy to a republic.
Jamaican Prime Minister Andrew Holness told Prince William that his country plans to become fully independent and will eventually remove the British head of state.
6:04Royal family receives backlash during Caribbean tour
Royal family receives backlash during Caribbean tour – Mar 25, 2022
"We are moving on," he said. "We intend to … fulfill our true ambitions and destiny as an independent, developed, prosperous country."
During the tour, Prince William made a speech saying that slavery "should never have happened" and expressed his "profound sorrow" over the history of slavery in the country.
What happens next
Experts say that it's possible to both admire and abhor public figures for their past actions, although it can make the grieving process more complex.
Dave Kessler, a grief specialist and founder of Grief.com, told USA Today the way people grieve is changing, especially with the popularity of social media, and that the lines of inappropriate and appropriate conversations about deceased figures is often blurred.
"There's a movement shifting away from, 'don't talk badly about the dead,' to 'let's talk about people more authentically.' And these more authentic conversations include acknowledgement of both the good and bad in all of us," he told the outlet, adding that it exemplifies the complexity of humankind.
2:03Prince Charles commits to 'listening' to Indigenous peoples as Canadian royal tour begins
Prince Charles commits to 'listening' to Indigenous peoples as Canadian royal tour begins – May 17, 2022
Essayist Rebecca Solnit wrote on social media Saturday that "the death of the queen has become an occasion to revisit the intertwined histories of colonialism and slavery. Who the queen was as a person and whether she was herself a prisoner of circumstance are irrelevant; if you embody several centuries of royal history, it's the inequalities, invasions, and subjugations as well as the pomp and circumstance."
"The anticolonial discourse right now is about that embodiment of 'tradition,' and what that tradition actually consisted of," she added.
Dr. Kisha Supernant, director of the Institute of Prairie and Indigenous Archaeology in Canada, told Global News that now's the time to have these tough conversations.
"I think we're at a very important moment to bring forth this conversation and if we have any hope of reconciliation, we have to remember that truth comes first and that includes any truth about the British monarchy and the British Empire … if there's a moment to talk about legacy, it's when someone passes," Supernant said.
— With files from Global News' Neetu Garcha
1:58Royal tour to Canada wraps up amid calls for real action towards reconciliation
Royal tour to Canada wraps up amid calls for real action towards reconciliation – May 20, 2022
© 2022 Global News, a division of Corus Entertainment Inc.