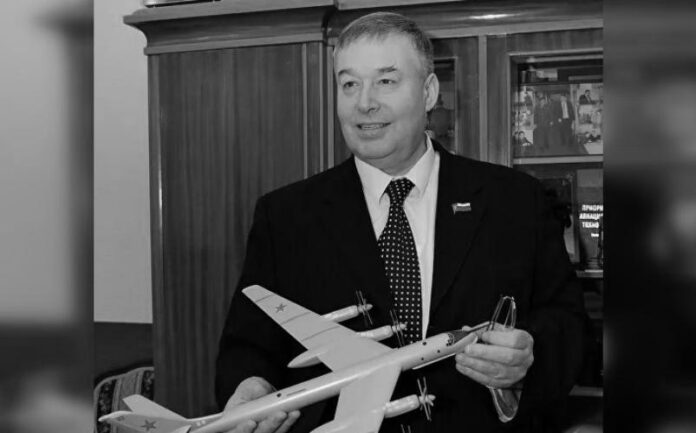 The former head of a Russian aviation research university died on Wednesday, with Russian media reporting that the prominent educator fell down numerous flights of stairs on the institute's grounds.
The Moscow Aviation Institute (MAI) announced the death of Anatoly Gerashchenko, 72, in a press release, characterizing his death "as a result of an accident."
Russian newspaper Izvestia, citing an unnamed source, reported that Gerashchenko "fell from a great height, flying (down) several flights of stairs."
Medics pronounced Gerashchenko dead at the scene, according to the report.
Gerashchenko had worked for MAI for 45 years, according to the university, and had served as its rector for eight years before retiring in 2015. Both Izvestia and state-controlled news service RIA Novosti reported that Gerashchenko was serving as an adviser to the current rector when he died.
The institute called Gerashchenko's death "a colossal loss" for the university, as well as for "the scientific and pedagogical community."
Gerashchenko had earned many top state accolades for his work, including a first-class Order of Merit for the Fatherland and an Order of Honour. During his career, he published more than 100 scientific articles and help MAI gain the status of national research university in 2009, while he was rector.
In 2010, MAI ranked first among universities whose graduates are "most in demand by enterprises and organizations of the defence industry," according to the institute's press release.
The university announced that a commission is being formed to investigate Gerashchenko's death, made up of representatives from MAI, the Russian Ministry of Education and Science and the State Labour Inspectorate in Moscow.
Gerashchenko's untimely death follows a long line of prominent Russians who have died under mysterious circumstances this year.
Most recently, Vladimir Nikolayevich Sungorkin, 68, editor-in-chief of major state newspaper Komsomolskaya Pravda, died "suddenly" after appearing to suffer a stroke last Wednesday, according to an initial medical examination.
Trending Stories
Child welfare agencies, families left in dark about 'high-risk' group homes, some linked to deaths
Saskatchewan stabbing suspect Myles Sanderson died from drug overdose: sources
The Kremlin called his passing "a great loss to Russian journalism."
Sungorkin's death came just four days after another Russian elite, Ivan Pechorin, an energy executive, died after he fell overboard from a speed boat on Sept. 10.
4:53Russia hints at nuclear action as the war in Ukraine intensifies
Russia hints at nuclear action as the war in Ukraine intensifies
Before those two deaths, numerous other Russian oligarchs had died suspiciously this year:
Ravil Maganov, chairman of the board of Russia's largest private oil company Lukoil, died after falling out of the sixth-storey window of a hospital. Lukoil was one of a few Russian companies to call for an end to Russia's invasion of Ukraine.Alexander Subbotin, a former top manager for Lukoil, was found dead in the basement of a shaman's house after allegedly receiving a hangover treatment involving toad venom.Sergey Protosenya, a former executive at Novatek, the largest independent natural gas producer in Russia, was found hanged outside a Spanish villa along with the bodies of his wife and 18-year-old daughter. The deaths appeared to be a murder-suicide.Vladislav Avayev, former vice-president of Gazprombank, Russia's third-largest bank, was found dead in his Moscow apartment along with the bodies of his wife and 13-year-old daughter. The deaths also appeared to be a murder-suicide. Avayev and his family were found one day before Protosenya and his family died.Vasily Melnikov, owner of Medstom, a company that imports medical equipment into Russia, and his family were all found dead in their luxury apartment in Nizhny Novgorod. Melnikov, his wife, and their 10-year-old and four-year-old sons had been stabbed to death and the murder weapons were found at the crime scene. Investigators again concluded that the deaths were a result of a murder-suicide.Mikhail Watford, a Ukrainian-born oligarch who made his millions as an oil and gas tycoon, was found hanged in the garage of his home in Surrey, U.K. Watford's wife and children, who were home at the time, were not harmed. Watford changed his last name from Tolstosheya after moving to the U.K. in the early 2000s.Alexander Tyulyakov, deputy general director of the treasury department for Gazprom, the largest publicly listed natural gas company in the world, was found hanged in the garage of his cottage. A note was found with his body leading investigators to conclude that Tyulyakov died by suicide.Leonid Shulman, a top executive at Gazprom, was found dead in the bathroom of his cottage next to an apparent suicide note in the same neighbourhood where Tyulyakov would die a month later.
3:40Putin mobilizes 300,000 Russian troops, warns West over 'nuclear blackmail'
© 2022 Global News, a division of Corus Entertainment Inc.