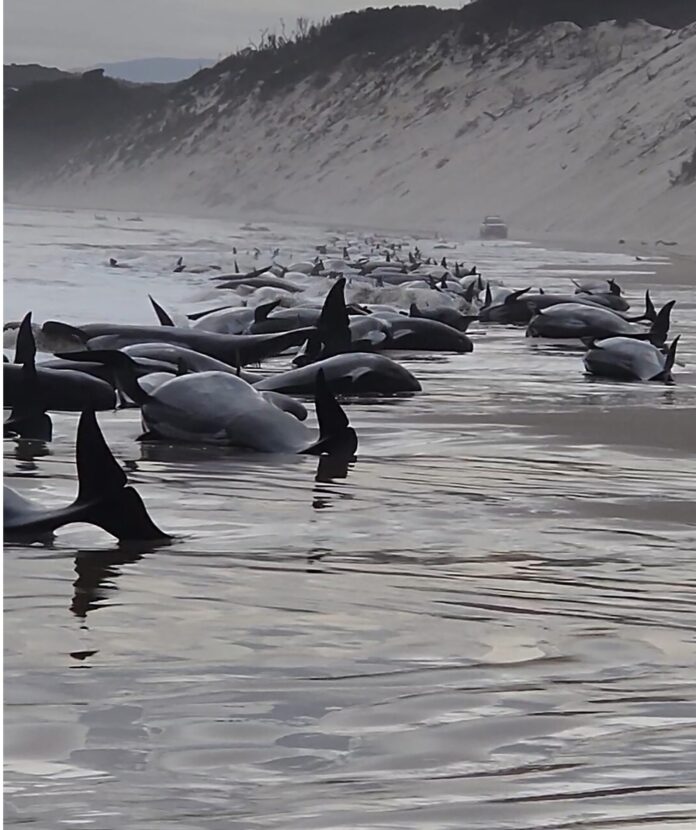 More than 200 whales were found beached on Tasmania's west coast on Wednesday in a disturbing mass stranding event that, unfortunately, is not the first of its kind.
The stranded animals appear to be a pod of about 230 pilot whales, according to the Department of Natural Resources and Environment Tasmania. They were found stranded on Ocean Beach in Macquarie Harbour.
About half of the whales are presumed to still be alive and a team from the Marine Conservation Program was sent to the area with whale rescue gear, the department added. Staff from the Tasmania Parks and Wildlife Service and Tasmanian police have also been deployed to assist in the rescue efforts.
This photo provided by Huon Aquaculture shows whales stranded at Macquarie Harbour in Strahan, Tasmania, Australia Wednesday, Sept. 21, 2022. About 230 whales have been stranded on Tasmania's west coast, just days after 14 sperm whales were found beached on an island off the southeastern coast.
Andrew Breen/Huon Aquaculture via AP
It appears that not all of the whales in the pod are stranded, with Sam Gerrity of Southwest Expeditions, a local tour company, saying he saw "a few" whales still in the harbour, though "the majority of them are up on Ocean Beach."
Karen Stockin, an expert on whale and dolphin strandings at Massey University in New Zealand, said the west coast of Tasmania is home to large populations of pilot whales, a type of oceanic dolphin.
There are many factors that can cause a stranding to occur, she said, including changes in water temperature like during a La Niña or El Niño. If the "leading" whale of a pod navigates incorrectly and gets too close to shore, it can be dangerous for the entire pod.
"In pilot whales, they are highly social and cohesive and if one is debilitated or comes too close to shore, hundreds can follow."
2:34Rescuers attempting to free hundreds of whales stranded on Australian sandbar
© 2022 Global News, a division of Corus Entertainment Inc.