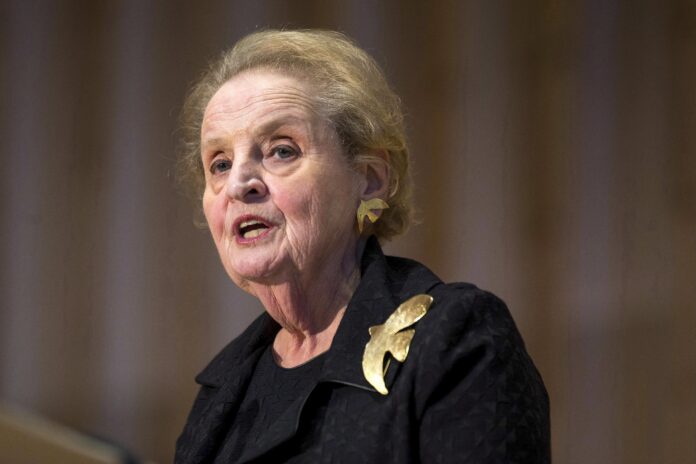 In this Oct. 6, 2016, file photo, former U.S. Secretary of State Madeleine Albright speaks during a memorial service for former Israel Prime Minister Shimon Peres at Adas Israel Congregation in Washington. (AP Photo/Zach Gibson, File).
(AP Photo/Zach Gibson, File)
Madeleine Albright, the 64th U.S. Secretary of State passed away on Wednesday, her family has confirmed. She was 84 years old.
Albright, who fled the Nazis as a child in her native Czechoslovakia during World War Two, was the first woman to hold that position.
Trending Stories
Zelenskyy says 'confrontational' talks between Ukraine and Russia moving forward
NATO deploying 4 more battlegroups as alliance meets on Ukraine support: chief
Albright was a tough-talking diplomat in an administration that hesitated to involve itself in the two biggest foreign policy crises of the 1990s – the genocides in Rwanda and Bosnia-Herzegovina.
— More to come
— with files from Reuters 
© 2022 Global News, a division of Corus Entertainment Inc.