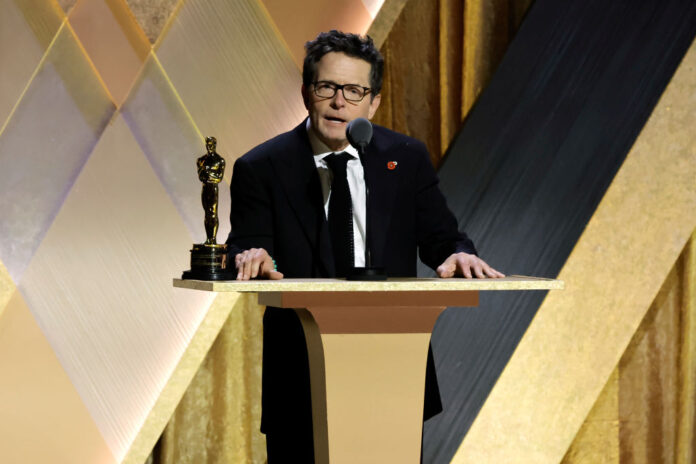 Beloved Canadian actor Michael J. Fox has been recognized with one of Hollywood's biggest honours for the important advocacy and fundraising work he's accomplished since he was diagnosed with Parkinson's disease.
Over the weekend, the Back to the Future and Family Ties star was awarded with an honorary Oscar statuette — the Jean Hersholt Humanitarian Award — for his philanthropic efforts that have raised $1.5 billion for Parkinson's research. The award is given to an "individual in the motion picture industry whose humanitarian efforts have brought credit to the industry," according to The Academy's website.
Presenting the award was Fox's longtime friend Woody Harrelson. After Fox approached the podium he waited for the applause from a standing crowd to die down.
Honoree Canadian-American actor Michael J. Fox (R) accepts the Jean Hersholt Humanitarian Award from U.S. actor Woody Harrelson during the Academy of Motion Picture Arts and Sciences' 13th Annual Governors Awards at the Fairmont Century Plaza in Los Angeles on Nov. 19, 2022.
Valerie Macon / AFP via Getty Images
"Stop it. You're making me shake," he joked.
Fox's emotional, and at times hilarious, acceptance speech opened with him quoting lines from Bruce Springsteen's song No Surrender to sum up his experience with Parkinson's disease.
"That is sort of a personal anthem of mine," said Fox. "No retreat, no surrender."
He spoke about his humble beginnings as a Canadian actor and high school dropout.
"I did leave high school in the 11th grade, sold my guitar and moved to L.A.," he told the A-list audience, which included Tom Hanks, Brendan Fraser, Florence Pugh, Cate Blanchett and Jennifer Lawrence.
"I told my history teacher of my plan and he said, 'Fox, you're not gonna be cute forever.' I had no idea how to respond to that, so I said, 'Maybe just long enough, sir. Maybe just long enough.' It turns out we were both right."
<a href="" title="View image in full screen" class="c-figure__expand c-figure__overlay" data-trackaction="image