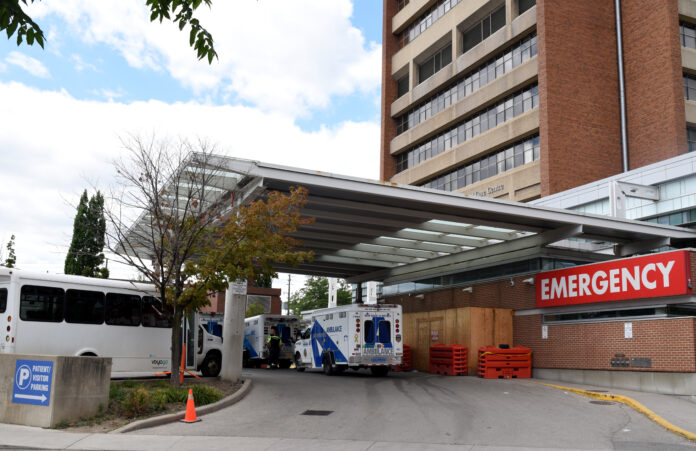 Emergency physician Dr. Raghu Venugopal doesn't mince words when describing the realities his patients have been facing in the emergency departments in which he works in Toronto.
"It's really a dire situation," he said after a recent shift in the ER.
Wait times are "exceedingly long" for even the most urgent care, with some patients waiting 100 to 125 hours for treatment, he says.
Perth Hospital emergency entrance.
Global Kingston
But this can't happen until all government leaders take responsibility and stop pointing fingers over whose job it is to fix the problems, Fenik said.
"It's time for leaders in the provincial and federal positions, (for) Prime Minister Trudeau to not say, 'It's your responsibility, Doug Ford,' or Doug saying, 'We need more funds.' It is our issue. We have to collectively sit around the table and solve it," he said.
"This back and forth does nothing for one of my citizens that needs to get to the ER when the doors are shut. So, the buck stops here with me."
Even as they call for more federal funds, most provinces have been trying to address the challenges in their health systems in their own individual ways.
For example, Saskatchewan recently announced new investments to bolster health staffing, including a new agency dedicated to recruiting and retaining nurses and doctors, as well as money to increase the number of family medicine residency training seats and nurse training seats.
Manitoba's budget this year had money for a special task force to address surgical and diagnostic backlogs and is investing in new education and recruitment programs for nurses.
Last month, Ontario announced it would increase the number of publicly-covered surgeries performed at private clinics, as well as waive exam and registration fees for internationally trained nurses and will send patients waiting for a long-term care bed to a home not of their choosing.
Prince Edward Island has been trying to adopt more team-based approaches to primary care called "medical homes and neighbourhoods" to reduce a significant number of patients without family doctors.
And Alberta has been investing significant funds and energy into reducing surgical backlogs.
Ronan Segrave, Alberta's surgical recovery lead, says a task force dedicated to this work has made some welcome progress in streamlining referrals and intake of patients – embracing new technologies to do so – and ensuring operating rooms are operating as effectively as possible.
Major changes in any health system can be "disruptive," he says, but he believes patients, health-care workers and government alike know that even disruptive change is necessary to make improvements, Segrave said.
"We're starting to embed changes that are more transformational in nature, moving forward to a world where people waiting outside of recommended wait time simply doesn't happen in the future," he said.
"We're changing processes, changing the pathways, changing how we deliver care, using the right technology and tools … We want solutions and changes that will be sustainable, not just in the short term, as important that is, but in the medium to longer term."
For those on the front lines of Canada's health care "crisis," this kind of change can't come soon enough.
Nurses in particular have been bearing the brunt of patient frustrations over long wait times and lack of timely access to care.
And it's been taking its toll on the dwindling numbers of nurses who have not decided to retire early or leave the profession entirely, as many across Canada have been doing in recent months, says Jane Casey, a registered nurse and director of emergency at Humber River Hospital in Ontario.
"There have been times where the stress of the moment gets to people and they do raise their voice and are quite concerned," Casey said.
"So I would say, pack your patience. We're doing the very best we can."